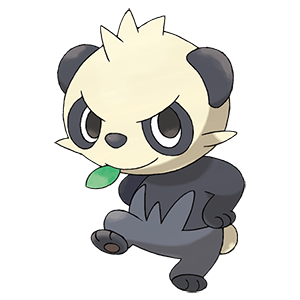 Pancham

 @ Eviolite  


Ability: 

Mold Breaker / Iron Fist  


Level: 

5  


EVs: 

220 HP

 / 

100 Atk

 / 

100 Def

 / 

52 SpD

 / 

12 Spe

  
Impish Nature  


-

 Drain Punch  


-

 Knock Off  


-

 Zen Headbutt / Gunk Shot  


-

 Parting Shot / Ice Punch
Set Details:
Drain Punch provides Pancham with some longevity. Knock Off hits Ghost and Psychic types that can take Drain Punch and removes items, making it easier to wear down switch-ins. Zen Headbutt hits opposing Pancham and Poison-types such as Croagunk, which would otherwise wall Pancham. Alternatively, Gunk Shot OHKOes all variants of Cottonee. Parting Shot allows Pancham to pivot and generate momentum. Alternatively, Ice Punch lets Pancham beat Sandshrew and provides a 2HKO on defensive Cottonee. Mold Breaker allows Knock Off to remove the item of Sticky Hold users like Shellos and Trubbish and threatens Sturdy Shell Smash sweepers at full health; on the other hand, Iron Fist makes Drain Punch and Ice Punch hit a little harder, but it should only be used when packing Ice Punch. EV Investment in HP and Defense helps Pancham survive Dual Wingbeat from Archen and lets it switch into Sandshrew and Diglett-Alola's Earthquake easier; the EV investment also helps Pancham fight opposing Pancham. 100 EVs in attack make your attacks hit harder against Sandshrew and Cottonee and makes Zen Headbutt KO 12 Defense Croagunk 15/16 times. 12 Speed EVs allows Pancham to outspeed Shellos and Lileep, as well as uninvested Cufant. More offensive EV spreads are definitely possible and viable, but it makes Pancham more vulnerable to being worn down.


Team Options: 


Pancham is one of the best Pokémon in the tier and fits on just about any team. Fast offensive Pokémon like Scorbunny and Stunky appreciate Pancham removing opposing Eviolites and can make up for Pancham's average Speed. Helioptile can switch into Frillish trying to burn Pancham, as it is immune to Scald and Hex and doesn't mind Will-O-Wisp much. Additionally, it can alleviate Pancham's mediocre Speed with Glare. In return, Pancham can break through Munchlax and Lileep, which trouble Helioptile. The two can also form a pivot core. Frillish benefits from Pancham's general bulk and resistance to Knock Off, as well as it's ability to hit Helioptile. Setup sweepers such as Shell Smash Omanyte can come in safely through Pancham's pivoting and take advantage of the lowered attacking stats to set up safely.